Funny Christmas Tags - Photo Tutorial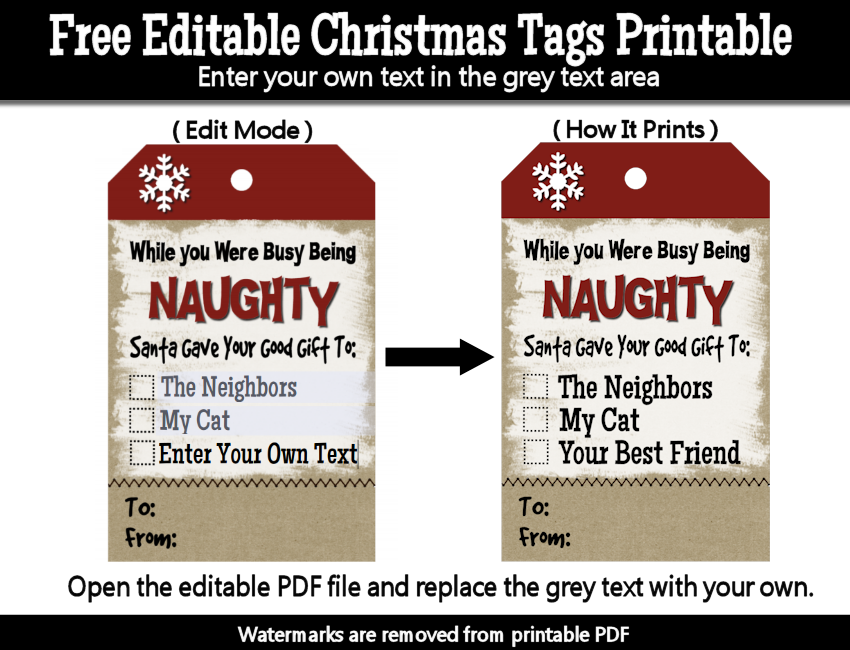 Our family is always playing pranks on each other at Christmas. You never know if you'll get a tiny gift wrapped in a huge box with bricks added for weight making you think you're getting something HUGE, or if you are getting a "re-gift" that is on the bizarre side.
I've always said if the kids didn't quit peeking at their gifts I'd give them to someone else, which was the inspiration behind creating these tags. Keep in mind that my kids are in their 20's and 30's. My husband is just as sneaky at trying to peek so it's a real challenge to get the gifts wrapped and hidden from them all during the holidays.
These tags are ideal for friends and family that enjoy a little Christmas Humor during the holidays.
Materials You Will Need:
1. Cardstock or Matte Photo Paper
( I prefer Canon Matte Photo Paper it's inexpensive and prints in vivid colors. )
2. Scissors
3. Double Sided Tape ( I prefer Scor-Pal ) or ribbon to attach gift tags to your packages.
4. Access to a printer.
If you don't have a printer most Public Libraries will allow you to bring your own cardstock or matte photo paper and they usually charge a nominal fee. You can always call them in advance to find out their pricing.
Step One:
Open the editable PDF Click here to open printable
PDF
.
You will see 3 sections beside the checkboxes highlighted in grey. Click on each section to remove the words in grey and replace them by typing in your own words.
See photo below for an example:
Step Two:
Before printing make sure that the "fit to page" selection "Is" selected so they print out the correct size.
Step Three:
Load your printer with your cardstock or matte photo paper and print the tags.
Step Four:
With a good pair of paper scissors cut the tags out from the printed sheet. Take a hole punch and punch out the white circle and run a strip of ribbon or string through it to attach to your gift. You can also add an eyelet if you have the supplies and tool to do so. I love adding eyelets to my tags to give them more added flair. I usually add a strip of ribbon and tie it off at the top, then place some double sided tape on the back to adhere to the gifts.
I wrapped an early Christmas gift I picked up for my daughter and placed the tag on it in the photo below showing the tag on a gift.